Social Security Disability Review After Age 50, 55, and 60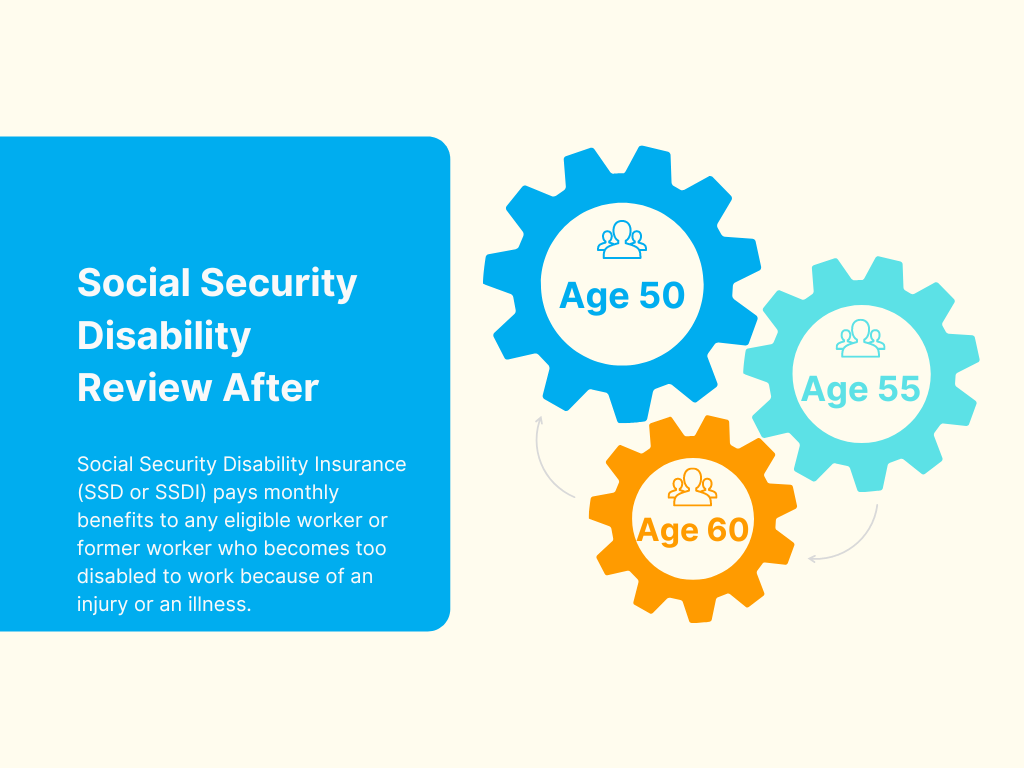 Social Security Disability Insurance (SSD or SSDI) pays monthly benefits to any eligible worker or former worker who becomes too disabled to work because of an injury or an illness. If you have worked enough years to earn the required "work credits," you are eligible to apply for SSD benefits, whatever your age.
In this blog post, we at The Clauson Law Firm want to explain what the Social Security Administration (SSA) calls a "Continuing Disability Review," or CDR. This is the process used by the SSA to check up on every recipient of SSD benefits to see if the impairment causing their disability has improved enough to no longer qualify them for disability benefits. We'll also explain how the CDR schedule and other elements change at ages 50, 55, and 60. First, we'll look at how the CDR system works. If you have any questions about how the CDR system applies to your case, contact Clauson Law to get all the answers you need.
How Do Continuing Disability Reviews (CDRs) Work?
The law requires the SSA to conduct Continuing Disability Reviews on a regular basis as a method of preventing SSD benefits from being paid to someone whose disabling impairment improved enough for them to return to work.
However, because some conditions are more certain to be life-long disabilities, the Social Security Administration developed a scoring system to distinguish the cases in which improvement was more likely to occur from those that were unlikely to improve. This system permits the SSD bureaucracy from wasting valuable personnel hours reviewing the cases least likely to see improvement in their disabling impairments.
Determining If You Are Still Disabled
The fair and uniform application of the SSD rules and regulations required that there be a single definition of a "disability" because the system would not work if two case examiners judged the same benefit applicant's impairment differently.
The Social Security Administration defines a disability as "a medically determinable physical or mental impairment that lasts or is expected to last 12 month (or result in death) and prevents the person from performing substantial gainful activities." By "substantial gainful activities" (SGA), the SSA means activities by which you could earn a certain amount of income. In 2022, the amount is $1,350 per month. (Income limit for a blind applicant is $2,260.)
Just as an SSD's original application for benefits is assessed by that definition, so too is the CDR. Is the SSD benefit recipient's impairment still severe enough to prevent them from earning the SGA?
Medical Improvement Category (MI)
To use its personnel and financial resources efficiently, the SSA set up the schedule of Continuing Disability Reviews (CDRs) to reflect the probability of improvement based on the nature of the SSD claimant's impairment. The SSA assigns each new approved disability claim into one of three Medical Improvement (MI) categories: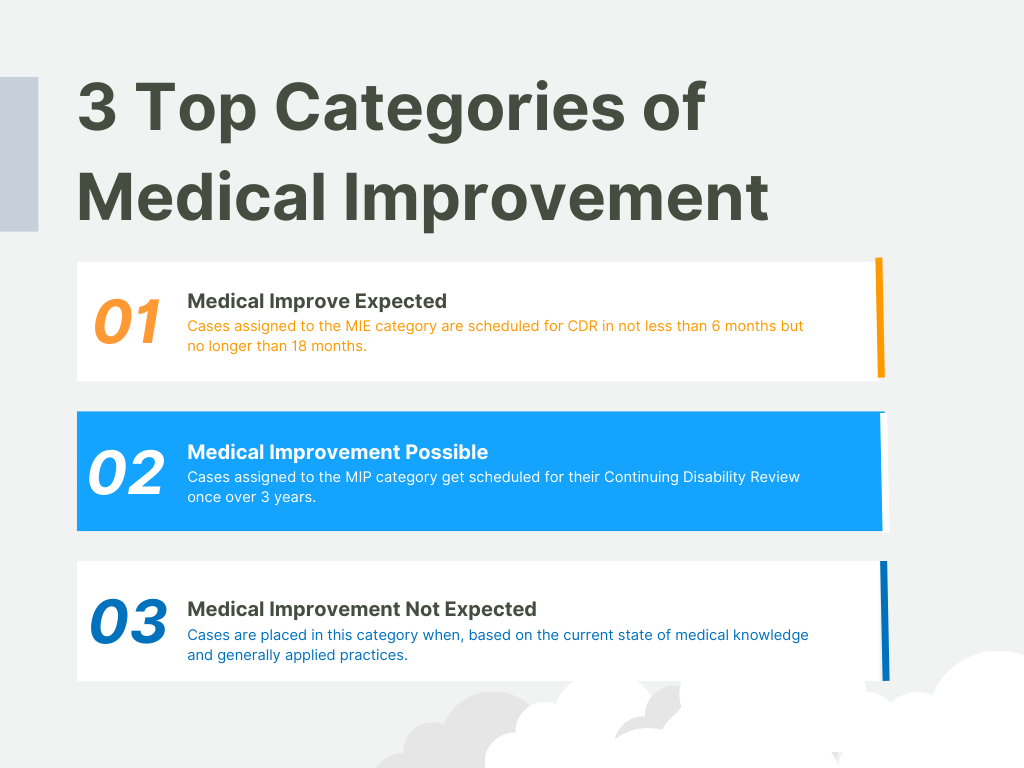 The frequency with which your case will be reviewed under the CDR system is determined by the category your case is assigned to.
Medical Improvement Expected (MIE): Cases assigned to the MIE category are scheduled for CDR in not less than 6 months but no longer than 18 months. Examples of impairments that qualify for SSD benefits initially but are expected to improve are often injuries and illnesses that have a record of responding to treatment. Some cancers, like those for which a bone marrow or stem cell transplant might be recommended, could go into remission. The SSD claim is initially qualified because the disability will last a year or more, but improvement is expected to follow thereafter.
Orthopedic injuries treated with surgery and followed by a period of rehabilitative therapy would also be expected to improve. The Continuing Disability Review is conducted after only a relatively short period of time because of the high probability of some improvement.
Medical Improvement Possible (MIP): Cases assigned to the MIP category get scheduled for their Continuing Disability Review once over 3 years. This category is intended to include severe disabilities but ones that are not necessarily permanent. Medical improvement is not expected as it is with cases in the MIE category, but improvement is possible.
The SSA regulations use examples like Crohn's disease, chronic ulcerative colitis, epilepsy, and schizophrenia to illustrate the kinds of impairment that might fall into the MIP category.
Medical Improvement Not Expected (MINE): Cases are placed in this category when, based on the current state of medical knowledge and generally applied practices, and based on the SSA's administrative experience, the claimant's impairment is either likely to remain the same or may become more disabling over time.
Because of the lower likelihood of medical improvement in these cases, the CDR is scheduled to be conducted no more than every 7 years but no less than every 5 years.
How Does Your Age Affect the Frequency of Your CDR?
Each of us becomes more vulnerable to injury and illness as we progress in age. This truism is recognized by the Social Security Administration as it manages its resources. The SSA does not want to spend valuable time reviewing cases that involve claimants whose age makes their ability to resume employment less viable.
When an SSD recipient turns age 50?
Their scheduled Continuing Disability Reviews are rescheduled to occur every 5 to 7 years, even if they are assigned to the MIE category which usually calls for a CDR every 3 years. This administrative change makes it much less likely that an SSD recipient who is 50 years of age or older will be disqualified from benefits because of a CDR assessment.
Age is also a factor when assessing your Residual Functional Capacity (RFC) because the SSA believes it is harder for an older worker to learn new job skills, what the SSD case reviewers call "vocational adjustment." Because of this perception of older SSD benefit recipients and SSD applicants, a person over 50 years of age will have an easier time winning approval for benefits and keeping the benefits after a CDR.
When an SSD recipient turns age 55?
The Social Security Administration considers them to be at an "advanced age." The advanced age designation applies to all disability benefits applicants and recipients between the ages of 55 and 59.
When a CDR is performed in a case in which the SSD benefit recipient is 55 or older, the measure of the recipient's residual functional capacity is significantly affected by the fact that their only genuine employment opportunities exist in their usual occupation. Where a younger disability recipient could be deemed capable of adjusting to a new job description, older candidates are not seriously considered to make this transition.
CDR and Other Disability Issues at Age 60 and Above
When someone is 60 years old is disabled, whether they are already receiving SSD benefits or they are just thinking about applying for them, the question of early retirement usually comes to mind.
Do not file for early retirement benefits at age 62 if you are disabled.
Social Security disfavors early retirement as a policy. The government designed the Social Security System to provide full retirement benefits to those who reach Full Retirement Age (FRA). You can file for early retirement at age 62, but you will lose a substantial percentage of your full-retirement-age benefit amount, and the reduced benefit is permanent.
Early retirement can cost you up to 30% of the monthly benefit you would receive if you waited until you reached your FRA. But Social Security Disability benefits are equal to what you would receive under your full-retirement-age benefits. If you are 62 or older and still younger than your FRA, you should apply for SSD benefits. There is no penalty for applying and qualifying would bring you your full retirement payments until you reach your FRA. Then, when you reach your full retirement age, your benefits simply transfer from disability benefits to retirement benefits, without any change in the amount of your monthly benefit.
Get Experienced Legal Help with Your Social Security Disability Issues
Social Security Disability Insurance (SSD or SSDI), Supplemental Security Income (SSI), and Social Security Retirement (SSR) laws and regulations involve a maze of general rules and special exceptions. Only a professional who focuses on the Social Security Administration's system on a daily basis can truly understand how it all works.
Getting the right help with your disability claim is important because even the smartest novice working without an experienced disability lawyer's help can make a mistake that can cost them valuable time and substantial benefits.
The Clauson Law Firm has been concentrating on disability law for decades, with our chief attorney as one of the nation's foremost experts on disability law and procedure. We may be based in North Carolina, but we serve clients throughout the entire country. We can help you with your Social Security Disability issue if you live anywhere in the United States.
Don't settle for less than the best legal representation you deserve. Call us for a free consultation about your disability case today.